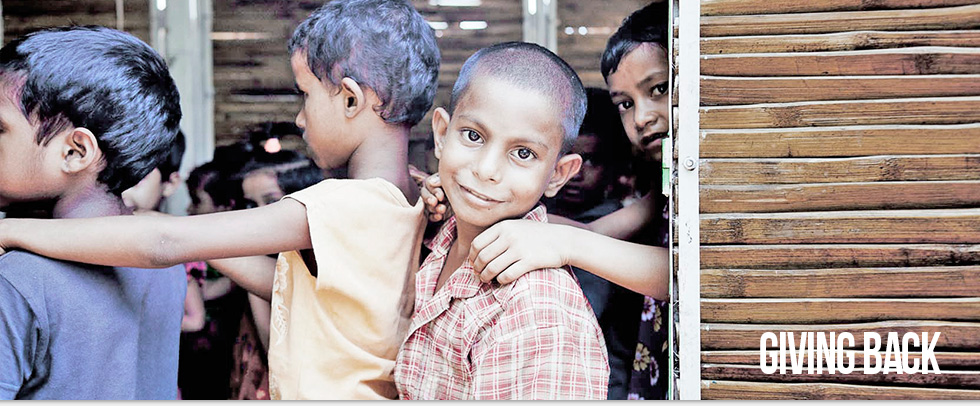 Corporate Social Responsibility
Being in Bangladesh puts GraphicPeople in one of the most colorful and cultural places in the region. We operate in one of the world's fastest growing megacities where the buzz of everyday Dhaka never fails to add excitement to life. Therefore we feel it is important to give back to the local communities where we live and work. From building houses for low income residents to month-long community outreach endeavors to supporting personal causes, GraphicPeople takes pride in stepping outside the studio to make a difference.
Helping Them Help Themselves
Since 2009, GraphicPeople has collaborated with the JAAGO foundation to build schools that give the children of Dhaka a chance to break the cycle of poverty through education.
Our first school in Korail started operation in April 2011. Today, a total of 80 children are sponsored by AdPeople and its employees. This new branch is one of JAAGO's biggest projects to date. Following the success of our first school, we are currently building more schools and helping the nation-builders of tomorrow help themselves.
EMPLOYEE VOLUNTEERING PROGRAMS
We feel it is very important to be an integral part of the local communities where we live and work. Therefore we aspire to develop a direct engagement with the community to bring about positive changes, because we believe that together we can create substantial impact on the lives and habitat around us. From building houses for low income residents to long term community outreach endeavors to supporting personal causes, we are determined to give back as much as we can. Our projects are mentioned below in details.
Imagination is Power
"Imagination rules the world." – Napoleon Bonaparte
Children have the power to imagine without any reservations, but can they always realize this gift? Living in urban slums is not easy and often deprives the children of the true essence of a lively and free-spirited childhood. We at GraphicPeople feel it is important to be an integral part of the local communities where we live and work and our group of exceptional talents have taken on a goal to channel their skills, hobbies and passions into positive outreach initiatives within the community.
Our journey with Spreeha Foundation began on 8th February 2014 in the urban slum of Rayerbazar, Dhaka after multiple interesting brainstorming sessions with children and their parents, which resulted the Imagination is Power project to emancipate children to think outside the box. The idea was to empower urban slum children to express themselves through art and crafts, music, photography and graphic designing.
Winter Blanket distribution
Every year we set a mission to ensure people on the streets of Bangladesh are protected from the cold waves of winter. In 2014 we took the mission to one of the most remote locations of the country- The Tea Gardens in Sylhet. With an average per capita of less than $1/ day for the eldest citizens of the local community who are unemployed, during the winter it becomes extremely painful for them to endure the awfully cold days in their mud houses. Therefore, with the help of the Lal Chand Tea Estate's panchayat and Estate Managers we selected about 181 of the hardest hit folks to whom we distributed warm blankets on Christmas Day at Lal Chand Tea Estate main division. To make it a success, our employees contributed for this initiative by donating money for these blankets.
In 2013, as soon as the cold wave hit the streets in December we launched our charity program of distributing winter blankets all across Dhaka City. Within two weeks we collected enough funds to distribute more than 150 blankets all across Dhaka over one night. Next year we plan to go bigger and better and keep more people happy and warm on the streets.
WHAT OUR VOLUNTEERS SAY
MAHENAZ CHOWDHURY

Art and Crafts Mentor

I look forward to every Saturday to spend an enchanting time with my art & crafts students who are literally one of the sweetest, cutest, wittiest bunch of kids I have been fortunate to meet!

MOSHIUR RAHMAN

Photography Mentor

Photography needs to come from the heart. It is the hunger of capturing a good shot with a genuine touch of honesty. My dream is to enable my photography students to learn to be honest through their lenses.

BABLI BISWAS

Art and Crafts Mentor

I have always wanted to get involved with the community and GraphicPeople gave me this extraordinary opportunity. I could fulfill my yearning to inspire these wonderful children to be independent in their lives with the aim of a happy future
If you think we can partner with a good cause, write to us.